Speakers – 

2020 Edition 
In progress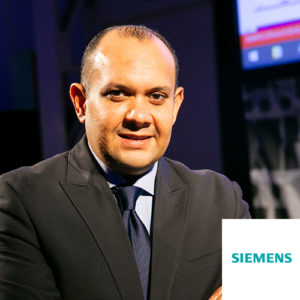 Mohamed Elmogy
General Counsel Middle East and North East Africa, Siemens
Dr. Mohamed Elmogy is a General Counsel at Siemens supporting its businesses in the Middle East and North East Africa. Prior to this, he was the Head of Legal and General Counsel for North East Africa Region at Sandoz (a Novartis company) which is one of the top multinational pharmaceutical companies. His legal expertise includes litigation, dispute resolution & claims, compliance & governance, corporate ans shareholders' relationship and employment matters. Prior to 2016, Dr. Elmogy was the Compliance & Ethics Officer MEA at Pepsi Co Inc., based in the Dubai regional office. He is a senior legal counsel and compliance officer with a track record of 24 years of hands-on legal experience across major commercial groups from the telecoms, shipping and oil & gas sectors in emerging markets such as the Middle East. His impressive professional background includes, among others, positions such as Senior Legal Counsel at Qatar Petroleum in Doha and Senior Litigation & Property Lawyer at Vodafone in Cairo. Dr. Elmogy successfully obtained his Ph.D. in International Commercial Arbitration at the American Arab Academy in partnership with the Texas University in the US and his master's degree in Law MSC in International Legal & Commercial Transactions and Logistics at the Arab Maritime Academy for Science and Technology in Egypt.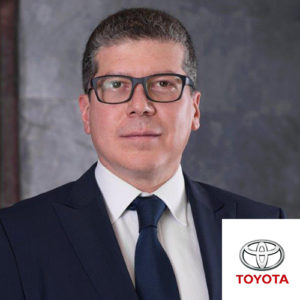 Luis F. Lozano Olivares
Legal Government & Industry Affairs Senior Director and General Counsel & Compliance, Toyota Mexico
Luis F. Lozano Olivares received his law degree from the Universidad Anahuac in Mexico City, being admitted to practice throughout the Mexican Republic since 1998. Up to 2001 he practiced law in Mexico City with Baker & McKenzie as an associate of the firm. He lived in Madrid, Spain from September 2001 up to December 2002, where he attended and obtained the Executive Master in Business Administration degree form the prestigious IE Business School. He joined Jáuregui Navarrete y Nader, S.C. in 2003 as an associate. He joined Toyota Motor Sales de México, S. de R.L. de C.V. in 2005 where he has worked since as responsible of the Legal Department; his expertise include among others, corporate law, mergers and acquisitions, project finance matters, contracts, foreign investment and as General Counsel he has familiarized with other relevant legal matters such as labor, tax, environmental-concerns, international trade and investment, transfer of technology and industrial property, Product liability and Consumer Protection. Luis has developed himself within Toyota by acquiring more responsibilities of relevant areas for the company. He is now responsible for Legal (as General Counsel for Mexico Operations), Government and Industry Affairs, Trade, Compliance and Corporate Communications for Mexican Toyota operations. He participated as representative of Toyota with government and Mexican private sector during the negotiations of USMCA. He is a columnist on politics in Excelsior which is a National Newspaper.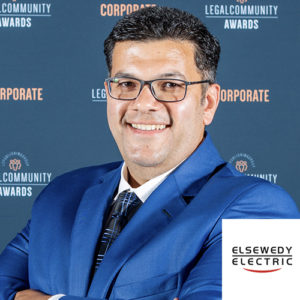 Mahmoud Shaarawy
Group Legal Director, Elsewedy Electric
Mahmoud Shaarawy is Group Legal Director at Elsewedy Electric and is the head of a team of 32 Lawyers serving about 96 companies in the Middle East and in Africa, specialized in energy, telecommunications, construction, turnkey projects, and manufacturing. His legal expertise includes contracting, services, consulting, purchasing, corporate, construction and company operations. He ensures compliance with MEA country laws and general matters such as land, corporate, competition, employment, intellectual property, dispute procedures, and claims management. Mr. Shaarawy has extensive experience in EPC agreements and related financing agreements, mainly handling agreements related to power generation, electricity transmission, electricity distribution, substations and infrastructure projects. He also reviewed and negotiated several project agreements related to renewable energy. Mr. Shaarawy's previous experience includes working at ElDib Advocates where he expanded his legal expertise in several law fields and working as a legal counsel for the Multinational Corporation (Oracle) and International Corporations (Alkan & ElSewedy). He graduated from Alexandria University, with a bachelor's in Law – English Department. He has a master's degree in Logistics, Finance, and Legal Affairs from the Arab Academy for Science & Technology as well as a diploma in International Law from Ain Shams University.
---
Are you an In House lawyer and have you a subject matter expertise you'd like to contribute to a wide
audience? Do you like to talk about your experience or have unique perspective you want to share? We'd love to hear from you!
If you are an In House counsel and you would like to be considered as speaker/panelist, please send an email to helene.thiery@lcpublishinggroup.it.
We will evaluate all submissions and add speakers to our programming agenda from January 2020. Applications evaluations are not necessarily performed on a first-come, first-serve basis but we are evaluating submissions in the context of the overall programming agenda.  Please note that we may not be able to reply to every submission.